Sustainable Technology Institute
Sustainable Technology Institute
Sustainable Technology Institute
Sustainable Technology Institute offers workforce training in the fields of solar energy and building energy efficiency. We offer courses that prepare students for exams administered by the North American Board of Energy Practitioners (NABCEP) and Building Performance Institute (BPI).
Zak holds a Dual Master of Science degree in Technology with concentrations in Building Science and Environmental Design. He holds a VA Class A license, and has been adding sustainable design elements to his work for many years.
Wil is a long time sustainable construction and energy efficiency expert and is a certified BPI Building Analyst. Before starting STI, Wil worked as the Lead Project Manager for Urban Grid Solar.
We offer installations for grid-tied, battery based, and hybrid systems. PV system prices have dropped dramatically in the last two years. Solar installations used to be only about living "off-grid" or just liking the idea of living more sustainably, but this is no longer the case.
Installing solar panels on your business is currently an excellent investment with a fast return on investment (ROI). With prices at an all-time low, we can honestly say that choosing to invest in solar can beat an investment in mutual funds or even the stock market.
Installation of a solar thermal water heating system can reduce your energy bills significantly. We can design an appropriate system based upon the hot water needs of your family.
Our sustainability experts can come to you and offer professional advice that is personalized to each individual's situation.
STI is equipped to provide a turnkey system for insulation and air sealing in Commercial and Residential Buildings.
Recent News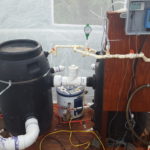 STI has recently started a research experiment with a two stage anaerobic digester. We constructed the digester out of two 58 gallon poly barrels and we are currently using a small domestic water heater to maintain the optimum temperature of 95 degrees for methanogenic bacteria formation. So…
read more